In celebration of National Caregiver Month and National Alzheimer's Month in November, two of Sharecare's Top 10 Alzheimer's influencers, Sherri Snelling (#4), Founder and CEO of Caregiving Club and Lori Le Bay (#1), Founder and CEO of Alzheimer's Speaks, are co-hosting special programs for Lori's Alzheimer's Speaks Radio Show.  Sharecare is the health and wellness experts site started by Dr. Oz.
Tune in live every Tuesday at 10am CT to join the hosts and their expert guests for "Let's Talk Tuesdays" at: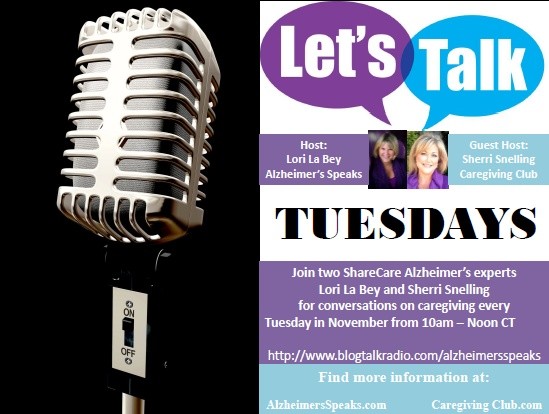 Read the press release here:  Caregiving Club Joins Alzheimer's Speaks to Celebrate Natl Caregiving Month press release 10.30.13
Read more about Alzheimer's Speaks – click here
Read more about Caregiving Club – click here
Read more about Sharecare – click here
Following is the line-up for the "Let's Talk Tuesdays" radio guests:
Tuesday, November 5
Lori and Sherri kick-off the "Let's Talk Tuesdays" with Lori providing information about the growing trend of Memory Cafes for early on-set dementia patients and their family caregivers and Sherri discussing the tipping points that caregivers face and how to better balance caring for themselves while caring for loved ones.

Click here to listen to the November 5 podcast
Guest on Tuesday, November 12
Brooks Kenny is Executive Vice President and Chief Marketing Officer of Lotsa Helping Hands
Brooks is a nationally recognized speaker in cause marketing and strategic partnering.  She is the force behind the company's enterprise and marketing efforts working with more than 50 nonprofit partners across the country. She directs the companies branding, marketing and social media efforts by developing partnerships and creating business growth.

Click here to listen to the November 12 podcast
Guest on Tuesday, November 26
Gary Kaye is Founder and Chief Content Officer for "In the Boom Box"
Gary launched In the Boom Box as the online site dedicated to technology for boomers.  He is an award-winning journalist who has been covering technology since IBM introduced its first personal computer in 1981.  Gary has reported on technology for NBC News, ABC News, Ziff Davis, CNN, and Fox Business Network.  He is a regular contributor to both AARP's web site and to AARP radio, Huffington Post as well as to a handful of other print and web-based publications where he specializes in issues involving boomers/seniors and technology.

Click here to listen to the November 26 podcast
Guest on Tuesday, November 26
Ruth Curran is founder and creator of Cranium Crunches
Ruth's passion, intense study and exploration has been the connection between the brain and daily functioning, particularly what happens to this connection as a result of aging, stress, and disease/injury.  She has developed a wide variety of thinking games and apps that incorporate photo imagery and short exercises that promote stress as a path to better thinking and functioning.  Her games inspire players to imagine, use strategies, and focus while building new neural pathways reducing stress.  Ms. Curran's background includes work in nonprofit health clinics and homecare providing insights into those suffering from brain related diseases and their family caregivers.  Click here to find the RELAX app created by Cranium Crunches and promoted by Caregiving Club as a wonderful way for caregivers to find balance and better health .

Click here to listen to the November 26 podcast
Other "Let's Talk Tuesday" guests include:
Eric Hall, Chairman of the Board of the newly launched Alzheimer's Global Initiative
Cathie Borrie, author of The Long Hello, will talk about adapting her memoir for the stage with award winning director and playwright, James Fagan Tait
Daniel & Ellen Potts – Let Me Be Your Memory is the first ever middle school language arts/Alzheimer's awareness curriculum
Stephen Johnston of the GENerator program and Walter Greenleaf Stanford Center on Longevity will discuss a global student design challenge to help early-stage dementia sufferers with safety and independence
Karen Love CCAL will discuss Advancing Person Center Living & Dementia Action Alliance on building alliances for person-centered care