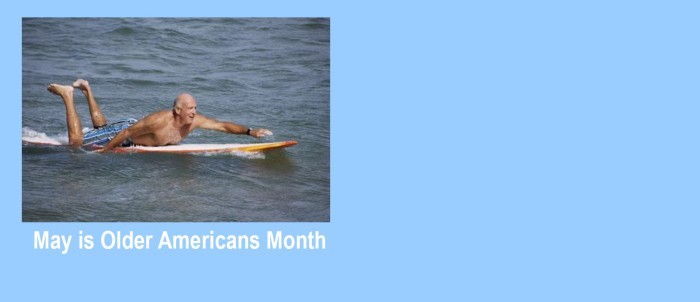 Every year the President authorizes Older Americans Month in May, part of the Older Americans Act (OAA) which was first passed by Congress in 1965 and signed by then President Lyndon Baines Johnson.
The original law established the U.S. Administration on Aging (AoA) to administer grants and become a main clearinghouse for information and programs in support of an increasingly aging society. Title III allows for those over age 60 to be eligible to receive these services and support programs whether it be meals, transportation, adult day care and family caregiver support.
According to statistics, if you live to age 65, you have a 20 percent chance of living to age 90 and one in 50 baby boomer women will reach the age of 100. Dan Buettner wrote his book, The Blue Zones, on the secrets of living to age 100. He traveled the globe finding local clusters of centenarians (those age 100 or more) in the same community and analyzing the common factors that allowed them to live so long.
In recognition of Older Americans Month, here are articles from our CEO Sherri Snelling that touch on the secrets to longevity:
David Murdock – 90-year-old billionaire and caregiver (originally published on Forbes.com)
Norman Lear – Longevity, Laughter, Love of America (originally published on PBS Next Avenue)
Want to Live Longer? (originally published on PBS Next Avenue)