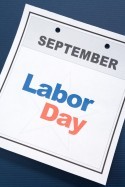 While most of America celebrates Labor Day as the official end of summer, I will spend the day celebrating the nation's most valuable yet overlooked labor force – the 65 million who are caring for a loved one who is aging, has a chronic illness, disorder or disability.  When the U.S. government first established Labor Day in 1894, it was to "celebrate the economic and social contribution of workers."
When it comes to economic and social contribution, a 2011 AARP report showed the value of those 44 million caring for someone over the age of 50 (this data does not include the additional 21 million caregivers for those under age 50) is $450 billion annually.
What does $450 billion in annual societal and economic value really mean?  AARP compared it this way:
That is $89 billion more than the total spent by the U.S government and state agencies for Medicaid in both health care and long term care services & support
That is $42 billion more than the total sales of the country's largest company – Wal-mart – and $11 billion more than the total sales of the three largest auto makers – Toyota, Ford, Daimler – combined
It would be equal to these caregivers handing each and every American citizen $1,500
It would represent 3.2 percent of the U.S. gross domestic product (GDP)
In fact, if the family caregivers were to all just "walk off the job" today – we would have a health care crisis of unimaginable proportion.  They provide 80 percent of the care needed to keep our rapidly growing aging society – 35 million over age 65 today growing to 70 million in 10 years –  living at home as independently and as long as possible.
Creating Caregiving Inc.
While caregivers face a fragmented, complicated health care system, there is help and hope.  In order to manage the stress and avoid the burn-out that is often part of caring for a loved one, caregivers need to do two things:
Identify they are a caregiver.  AARP and the Ad Council recently launched a three-year public service announcement (PSA) campaign to help caregivers identify as caregivers to avoid the isolation that can come with caring for a loved one.
Once caregivers self-identify they need to reach out and accept help.  One of the first things to do is to avoid the typical caregiver pitfall of feeling "all alone."   A great way for caregivers to start is by creating their own personal board of directors.
When it comes to starting a new venture, any successful company typically creates a board of directors.  Caregiving is really no different.  Caregivers should think of family members and circle of friends.  Is there an attorney in their midst?  An accountant, financial planner or perhaps a health insurance executive?  How about a nurse or social worker?  In life, we all have people around us who we tap for good advice, and we often turn to different people within our circle because they have an expertise in an area where we need help.
If caregivers can think of caring for a loved one as Caregiving Inc., then they are the Chairman of the Board. Once caregivers have identified their personal board of directors, they should sit with each one and explain where and how they need help.  Often, friends and family are eager to lend a helping hand, and if their help happens to be in their wheelhouse of expertise all the better.  Caregivers will get help, friends and family will feel good about helping and Caregiving Inc. will be a sustainable, healthy venture.
Sherri Snelling, CEO and founder of the Caregiving Club, is a nationally recognized expert on America's 65 million family caregivers with special emphasis on how to help caregivers balance "self care" while caring for a loved one.  She is the former chairman of the National Alliance for Caregiving and her book, A Cast of Caregivers – Celebrity Stories to Help You Prepare to Care will be published by Balboa Press, division of Hay House Publishing in February, 2013.