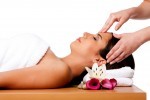 This week kicks off the nationwide effort called "Spa Week" a movement to have our over-stressed society pamper themselves.  No group needs pampering more than caregivers – those 65 million Americans who are providing loving care to a parent who is getting older, a spouse or friend who has a chronic illness or a child with a disorder or disability.  However caregivers find it hard to find the time to focus on themselves.  This is the perfect opportunity for family and friends of caregivers to give them a break and help them make that "me time."
The Healing Power of Massage
Sometimes we think of massage as an indulgence rather than the therapeutic health benefits and as a new age trend.  It is time to shift our thinking.  In BC 460, Hippocrates wrote, "The physician must be experienced in many things, but assuredly in rubbing" and massage therapy become widely used in Europe during the Renaissance. In the latest data available, which is 2007, the National Health Interview Survey found 18 million U.S. adults had received massage therapy.
According to the Mayo Clinic, massage can lower blood pressure, boost immunity, and provide therapeutic effect for those suffering from MS and cancer.  It can also aid in alleviating lower-back pain, increase join flexibility, decrease anxiety or depression, relieve migraines and improve immunity.
Getting and Giving Massage
For caregivers who often neglect their own health and wellness needs, getting a massage not only helps with stress relief, it can actually help their overall physical health.  But finding the time to steal away for a 60-minute or even 20-minute massage seems like a mission impossible.  This is where family and friends or co-workers can help.
Start by offering to take on a task or responsibility for the caregiver in your life.  You may offer to drive their dad to his doctor appointment this week.  Or perhaps you offer to go to the grocery store and do the shopping or deliver a meal for her family.  Whatever gives her a 60-minute break is perfect.  There are several
online communities with calendar tools to help coordinate these tasks. Next, solicit other friends to chip in for a massage coupon – you can find great deals on Groupon or Living Social for the national chain Massage Envy or many local nail salons and spas are offering great massage deals this week that don't cost an arm and a leg.
Lastly, convince your caregiving friend that this break is essential to keep her (or him) going in their caregiving journey.  After all, if the caregiver does not get a break, then her health is at risk and she struggles with being the best caregiver she can be for her loved one.  Taking some "me time" is essential.
If you cannot get a caregiver to agree to take the time for a massage, share with her this 5-10 minute self-massage solution:
Darrin Zeer, author of Lover's Massage and Office Yoga offers the following self-massage technique from his book will help take you on the Zen Express Train:
Place both hands on your shoulders and neck.
Squeeze with your fingers and palms.
Rub vigorously, keeping shoulders relaxed.
Wrap one hand around the other forearm.
Squeeze the muscles with thumb and fingers.
Move up and down from your elbow to fingertips and back again.
Repeat with other arm.
Just say "Ahhhhhh."