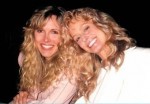 Some friendships last a lifetime.  In celebration of National Friendship Day (August 5) I profile Alana Hamilton Stewart and the late Farrah Fawcett – a friendship that continues even though Alana lost her dear friend of more than 30 years in 2009.  One of the things that Alana promised Farrah is that she would carry out her wishes to create a foundation to help those families facing cancer.  Today, Alana is president of the Farrah Fawcett Foundation, a non-profit organization dedicated to exploring non-traditional methods of cancer research and clinical trials, such as gene therapy and targeted therapy.  If Farrah could not find the cure in her lifetime, she wanted to ensure the foundation created in her name would do it for others after she was gone – and Alana is the keeper of that flame.
One of the foundation's current fundraising efforts is the recently announced vintage Farrah t-shirt that Urban Outfitters is selling.  The t-shirt features the iconic Farrah red bathing suit shot from the 1970s – a photograph that Farrah spent years fighting to get to the rights to.  A portion of the sales proceeds of the T-shirt will benefit the foundation.

It is fitting that one of the first fund-raising partnerships for the Farrah Fawcett Foundation is based on something Farrah fought so hard for in the same way she fought the anal cancer that ultimately took her life.  Alana wrote about her caregiving journey for the last three years of Farrah's life in her book My Journey with Farrah and she will also include their years of friendship in her book to be published later this year, Rearview Mirror. 
There were many things that went into making Alana Stewart and Farrah Fawcett best friends.  They were both Texans, blonde beauties in Hollywood, married to famous men, moms who lovingly suffered through their children's drug struggles and great cooks.   But, perhaps the most important thing about their story is that at the core they had each other's backs.
Alana related on a recent radio interview, "Farrah was so courageous and amazing – she never acknowledged that she wouldn't make it," remembers Alana.  "During her treatment she asked me to film the journey.  At first it was to have a video document of what the doctors were telling her but after she received so many letters from people telling her she was their inspiration to fight their own cancer, Farrah wanted to tell her story – the good, the bad and the ugly – and she wanted me to be the one holding the video camera."  The video diary became a top-rated NBC documentary called, "Farrah's Story" that aired one month before Farrah's passing in 2009.
Over the course of three years, from her cancer diagnosis in 2006 to her death in 2009, Alana was by Farrah's side.  She made several trips with Farrah to Germany to seek new treatments not yet approved in the U.S.  Alana recalls how hard it was to watch her friend go through painful treatments that were helping her fight the cancer but were also beating down her immune system making the athletic Farrah so weak.  On several occasions Alana wanted to turn the camera off but Farrah insisted on capturing everything.
As is typical in caregiving situations, Alana became Farrah's protector.  She ensured no paparazzi caught a photo of Farrah in a wheelchair.  Alana explains this wasn't vanity on Farrah's part it was her not wanting other cancer patients to feel she was losing the fight or that she was weak –  she wanted to be strong for the people who had written to her.  Alana also became Farrah's advocate with various health care professionals.  While the choices Farrah made for her treatment were all her own – Alana took notes and asked a lot of questions.  "At times I didn't know what to do, she would ask me what I thought and I didn't want to give her the wrong advice – so you just fly by the seat of your pants," says Alana.
During this period, Alana found herself waging her own cancer battle – Stage 1 cervical cancer.  She says, "I have a lot of faith, I meditate daily and believe in the power of spirituality and so did Farrah.  It was this strength in faith that helped both of us remain the fighters we always had been."  They also both knew they had each other through any challenges or setbacks that came their way.
When it comes to the power of friendships, a book called Connected:  The Surprising Power of our Social Networks and How They Shape Our Lives by Nicholas Christakis and James Fowler, illuminates how friendships can impact and even revolutionize our lives.  The book says friends can hold sway over us (and us over them) in both good and bad ways – and that this influence can extend to three degrees of friendship.  One intriguing statistic is that having a first-degree friend who is happy increases the likelihood of your happiness factor by 15 percent.
While the reason for Farrah and Alana's journey was not a happy occasion they made it a journey they took together and found "a lot of laughs" and humor along the way.  After Farrah died, Alana struggled as so many caregivers do with feelings of guilt and loss.  During her radio interview, Alana says, "I felt like I failed her, it took me a long time to get over it."
Being at the helm of the Farrah Fawcett Foundation has helped Alana rechannel the feelings of failure into a future of success.  "The foundation is dedicated to providing grants to researchers to find alternative therapies and we also help families – especially through the institutions with children who have cancer which was Farrah's wish – we provide funds for transportation, travel – whatever they need."
It is truly a rare and special friendship where one person drops everything to help another and not just for a weekend or so but for years.  In My Journey with Farrah, Ryan O'Neal, Farrah's longtime love and companion writes, "The bond between women friends is all-powerful and not to be taken lightly.  But the bond between Alana and Farrah is like nothing I've ever seen between two women.  They grew together like vines."
Read more about Alana and Farrah's caregiving journey in upcoming articles on ThirdAge.com and in Sherri's book, A Cast of Caregivers, to be published in February, 2013.