In November we highlight National Alzheimer's Awareness Month to create education for a disease that is becoming our future health care epidemic. According to the Alzheimer's Association, more than 5 million Americans have Alzheimer's disease today – and that number will grow to 13.8 million by 2050.
This degenerative disease (and the most common dementia diagnosis) is the only cause of death in the Top 10 (ranking 6th) that has no cure, no prevention and cannot be slowed. One in three seniors will die with Alzheimer's disease and more men and women will die from Alzheimer's than breast and prostate cancer combined.
While we wait for a cure, more than 15 million are caregivers for those with dementia. Women are disproportionately impacted by Alzheimer's – two-thirds of those with the disease are women and three in five caregivers are female family members.
And, as with many disorders and diseases affecting the brain (autism, Parkinson's, PTSD), Alzheimer's carries a challenging societal stigma. That is why we need to educate ourselves about this disease, its impact on all of us and how we can be part of the fight for a cure. Check out the Alzheimer's Association and USAgainstAlzheimer's Network for more information. You can also join the Brain Health Registry – whether you or a family member has been diagnosed with Alzheimer's or NOT – more clinical trial research is needed to find a cure quickly.
Read our CEO Sherri Snelling's articles and interviews with celebrities that have been impacted with this disease: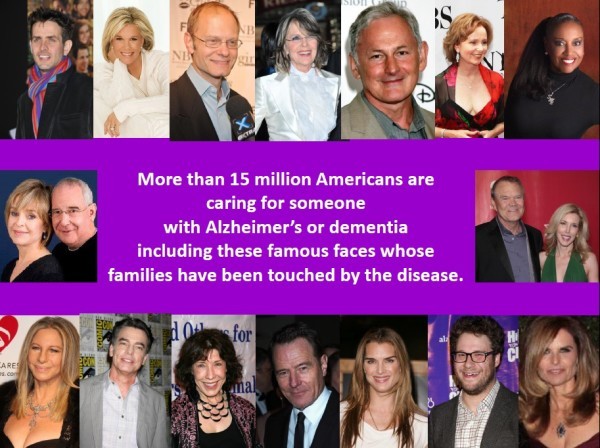 B. Smith & Dan Gasby on Alzheimer's (originally published on Forbes.com)
Brooke Shields – endless love in caring for her mom
Diane Keaton – Sandwich Generation caregiver
Glen Campbell's Farewell Tour (originally published on PBS Next Avenue)
Jill Eikenberry & Michael Tucker – caregiving team for her mom with dementia
Joan Lunden – coast to coast caregiving
Jodie Foster – Golden Girl Shines a Spotlight on Her Sandwich Generation Role (blog)
Kimberly Williams Paisley Chronicles Her Mother's Dementia (PBS Apr 2016)
Music of the Night – 2013 Alzheimer's Association "A Night at Sardi's" Event
Nancy Reagan's Caregiving Legacy (originally published on Forbes.com)
Stars Take Center Stage to Fight Alzheimer's disease – 2012 Alzheimer's Association "A Night at Sardi's" Event
Rizzoli & Isles Creator Campaigns to Solve Alzheimer's (originally published on Huffington Post)
Seth Rogen Getting Millennials to Care About Alzheimer's (originally published on PBS Next Avenue)
Still Alice May Be the Movie That Sparks the Alzheimer's Movement (originally published on PBS Next Avenue)
Sylvia Mackey – Hall of Fame Caregiver Who Changed the NFL
Amour – A Caregiving Movie Review (originally published on Huffington Post)
And more from Sherri Snelling on Alzheimer's disease:
Alzheimer's App Uses Singing to Boost Mood (originally published on PBS Next Avenue)
Alzheimer's Epidemic Hits Women Hardest (originally published on Forbes.com)
Caregiving Conversation Between Your Heart and Your Head (originally published on Huffington Post)
Dementia Caregiver Stress and Long-Distance Caregiving (originally published on PBS Next Avenue)
The Longest Day honors the long good-bye
Watch our videos on Alzheimer's and with celebrities impacted by the disease: