Versions of my following interview with David Murdock have appeared on Forbes.com and PBS NextAvenue.org.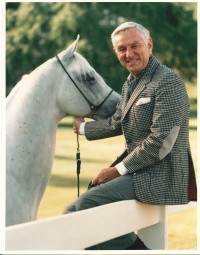 David Murdock, CEO of Dole Foods is a billionaire, a titan of business but he is most interested in healthy living to help us live longer and better. His reasons are personal. In the 1980s Murdock lost his beloved wife Gabriele to ovarian cancer at age 43, his second great loss of his life after watching his mother succumb to the same disease at age 42 when Murdock was then an impressionable young man of only 17.  As with many successful entrepreneurs and business innovators I have interviewed, Murdock has turned his private pain into a passion to find a cure for the chronic illnesses that shorten our lives.
David Murdock, at age 90, has the look and vitality of a man at least 25 years younger and believes his healthy practices will help him reach age 125.  He attributes his longevity and vigor to the healthy lifestyle habits adopted while searching for a cure for the cancer that eventually took his wife.
Putting His Money Where His Heart Is
Back in the early 1980s, Murdock bought Castle & Cooke, a leading real estate development company of which Dole was part. Since then he has made Dole Foods Company, the world's largest producer of fruits and vegetables.  According to Bloomberg BusinessWeek,  Murdock's net worth is $2.3 billion of which he has poured more than $500 million into creating  the North Carolina Research Campus where eight universities participate in research to find the health benefits of plants that can lead to longevity and aid in avoiding the wrath of diseases like cancer.
Through his acquisition of Dole, Murdock began focusing on the benefits of a mostly vegetarian diet to prevent chronic illness including diabetes, heart disease and especially cancer.  In 2006 Murdock added to his healthy living empire and opened the California Health & Longevity Institute (CHLI) in Westlake Village, California.  About a 40-minute drive from downtown Los Angeles, guests, including corporate executive groups, stay at the luxurious Four Seasons hotel housed in the same building as CHLI to receive services at the state-of-the-art medical suite, spa and nutrition demonstration kitchen.
Following Murdock offers some insights on caregiving and the business of aging well:
Healthy Eating
It's never too late to adopt healthy nutritional habits, according to Murdock who created his own new diet and discipline in his 60s.  While Murdock eats approximately 20 servings of fruits and veggies every day – he blends most into 2-3 smoothies which includes the food's outer skin.  Avoiding vitamins and supplements, he advises that anything the sun touches including banana peels and orange rinds should not be tossed but blended in for full nutritional value.
In addition to an abundance of fruits and veggies, Murdock includes seafood, beans, legumes and egg whites into his diet to get an adequate balance of protein with his carbohydrates. And he avoids fatty empty calories – in an interview with the New York Times, when the waiter delivered butter to the table, he pushed it back saying, "Please take death off the table."
"We take care of our vehicles – we're careful to put the proper kind of gasoline in the tank, put air in the tires, change the windshield wiper blades and brakes; but how many of us pay that much attention to what we put into our own bodies?" says Murdock.  "We have developed a culture in which we eat with our taste buds – not our brains. It is never too late to change the way you eat and once you do, your body will thank you with a longer and healthier life."

Exercise
Murdock advises that exercise should not be viewed as "optional" but should be a daily routine just like brushing your teeth.  He advises on three key elements of an exercise program:
1)      Don't make it routine – mix it up.  One day Murdock rides horses, another he does yoga and strength training.
2)      Get outside.  He believes that being a gym rat becomes boring and is one of the reasons people do not stick with daily exercise.
3)      Make it fun.  When I first met David Murdock, he spoke at a UCLA Longevity Institute Conference I  attended.  He captivated me with his story about caring for his wife but I was also fascinated by his comments to use "fun" to engage society in consistent exercise.
Murdock's example was from the Volkswagen Fun Theory program where metro train station stairs in Sweden were transformed overnight into piano keys – each step corresponding to the keys on a piano with actual sounds.  Miraculously where the day before almost 100 percent of travelers took the escalator, once piano stairs were installed, almost everyone was curious enough to take the stairs.  Watch Piano Stairs on YouTube.
Caregiving Advice
Murdock knows firsthand the stress and physical, emotional toll caregiving can take.  His advice is much like his approach to business and healthy living.
"Don't give up," urges Murdock.  "Exercising and eating properly will build your physical and mental strength to endure a stressful situation."
©2013 Sherri Snelling