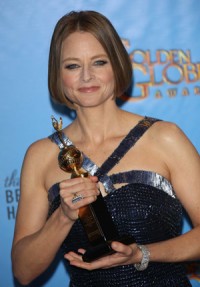 Three years ago, Hollywood actress/director, Jodie Foster received the Cecil B. DeMille Award for a Lifetime Achievement in Film at the Golden Globes ceremony. While Foster's accomplishment in movies is formidable it was her heartfelt speech that night about her mother that riveted the audience and TV viewers.
For more than 7 minutes she commanded the stage and a worldwide audience in an emotional stream of consciousness as this most private of celebrities shared intimate thoughts about her mother, Evelyn "Brandy," with dementia in the same way she has shared her art with us through her compelling film performances for four decades.
She spoke directly into the camera as if the crowded room of Hollywood luminaries and millions of viewers at home went out of focus and she was speaking to the single mom who held her 53-year-old daughter's hand through show business since she was three years old.
"Mom I know you're inside those blue eyes somewhere and that there are so many things you won't understand tonight," said a teary Foster. "But this is the only important one to take in:  I love you, I love you, I love you.  And I hope that if I say this three times, it will magically and perfectly enter into your soul, fill you with grace and the joy of knowing that you did good in this life.  You're a great mom. Please take that with you when you're finally OK to go."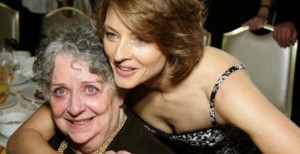 This revelation of her 87-year-old mother's Alzheimer's disease (although she never said "Alzheimer's") was not the first time Foster has talked about her mother's illness but it was the most high profile and profoundly public acknowledgement of her Sandwich Generation caregiving role. Her young sons, Charles and Kit, were in the audience as their proud mom talked of her boys being the reason she is inspired while she also said her mother was the "greatest influence of my life."
In a 2010 interview with the Daily Mail in the UK, she said about her mother's illness, "She's really a new person, not the mom I grew up with, and I have a real nostalgia for who she was. She spent years and years alone because she never remarried after my father left and she raised us by herself.  She used to say: 'I'm an only child so I prefer to be alone,' and she didn't keep up with her friends."
According to the Alzheimer's Association, more than 5 million Americans and 36 million people worldwide are diagnosed with dementia and an additional 17 million Americans care for someone with dementia or Alzheimer's disease (the most common type of dementia).  In fact, every 67 seconds someone new develops the disease and while early on-set Alzheimer's can be diagnosed when someone is in their 40s or 50s, one out of every two people age 85 or older will develop dementia.
Jodie Foster joins the ranks of the 24 million Sandwich Generation caregivers – those caring for children still at home while simultaneously caring for an older parent – including high-profile caregivers such as Diane Keaton, Maria Shriver, Brooke Shields, Joan Lunden and Holly Robinson Peete.
While some caregivers of those with Alzheimer's find it hard or almost impossible to care for their loved one at home because of violent outbursts, sundowning (extreme paranoia and frightfulness that can including screaming that begins at dusk) or wandering off, Foster has stated she will keep her mom in her home as long as possible.
When asked in an interview if she would consider seeking residential care for her mother, she said, "Oh God no way. I'm going to feel good — I'm going to feel that the end honored her and that she didn't have to lose her dignity.
"Dementia is an interesting thing," continued Foster. "It's the hardest thing I've been through and yet also strangely sacred… I'm just here to care for her. I have no axe to grind. Mine will be the last face she sees."
Jodie Foster has never wished to be a symbol for her choices in life: Child actor free of scandal (if you don't count the pre-pubescent prostitute she played in Taxi Driver which had some people up in arms); college co-ed career disrupted by a would-be presidential assassin (that forced her even further into her privacy shell); actor turned director (whose latest offering is Money Monster starring George Clooney and Julia Roberts opening this month); but I would love it if the Sandwich Generation could count on Jodie to continue to raise awareness for a role many of us will play in life: caregiver.
©2016 Sherri Snelling