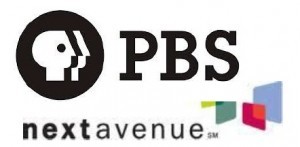 Following are all of Sherri's articles for PBS Next Avenue:
17 Essential Books for Caregivers
90-Year-Old Billionaire David Murdock Doles Out Advice
Alzheimer's App Uses Singing to Boost Mood
Alzheimer's Epidemic Hits Women Hardest
Are You a Caregiver or Just a Good Child? (Sherri Snelling quoted in article)
Can caregiver guilt be good for you?
Caregivers of 9/11 – Cancer and PTSD New Challenges for Survivors
Caring for Her Blind Husband Challenged Her Marriage
Casey Kasem's Legacy for Caregivers
Dark Side of Caregiving – Elder Abuse News
Difference in Caring for Moms versus Dads
The Emmy Awards We'd Give – TV's Best Caregivers (2012)
The Emmys We'd Award – TV's Best Caregivers (2013)
Employers must do more to support working caregivers
Finding Affordable Home Care for Your Parents (Sherri Snelling quoted in article)
For Caregivers, New Tracking Technology Offers Peace of Mind
Fran Drescher on cancer and 3 tips for caregivers (PBS 2015)
Help Your Parents Join the Aging in Place Revolution (Sherri Snelling quoted in article)
Holly Robinson Peete's Most Challenging Role – Sandwich Generation Caregiver
How Online Volunteers Support Caregivers
How Strong is Your Living Will? (Sherri Snelling quoted in article)
How to Avoid the Goldilocks Syndrome
How to Care for Your Parent Without Losing Your Job (Sherri Snelling quoted in article)
How You Can Combat the Senior Hunger Crisis
Joan Lunden on challenges of guilt and caregiving
Kimberly Williams Paisley Chronicles Her Mother's Dementia
Latest report shows rise in male caregivers
Meet the Hall of Fame Caregiver Who Changed the NFL
Moving Together to Prevent the Risk of Falls
New Report Highlights Stress of Long Distance Caregiving
Norman Lear – Longevity, Laughter, Love of America
The Osmond Family's Greatest Act – Winning the Daily Battle Against MS
Patient Navigators – New Help for Caregivers
PBS Powerful Expose on Assisted Living (Sherri Snelling quoted in article)
Robots vs. the Real Thing in Pet Therapy
Rosalynn Carter – A Pioneering Caregiving Advocate Says More Must be Done
Seth Rogen Getting Millennials to Care About Alzheimer's
Social Media Dangers for the Modern Caregiver
Suze Orman's Lessons Learned on Long Term Care for Her Mom
A Victory for Alzheimer's Patients and Caregivers (Sherri Snelling quoted in article)
The Village Movement – Redefining Aging in Place
Virtual Reality Is A Caregiver's Empathy Machine
Waltons reboot – multigenerational living is back!
What Lies Ahead for the Nation's Caregivers?
What Parents of Wounded Veterans Need
What We Can Learn from Brittany Maynard's Death
What's Next in Caregiver Technology
When the Old Care for Their Children
When Parents Face Driving Retirement – Alternative Senior Transportation
Why Caregivers Need to Plan for the Worst – Emergency Preparedness
Why Laughter is Crucial for Caregivers
Why You Need to Make Your End-of-Life Wishes Known
Why and When Denial is Good for Caregivers