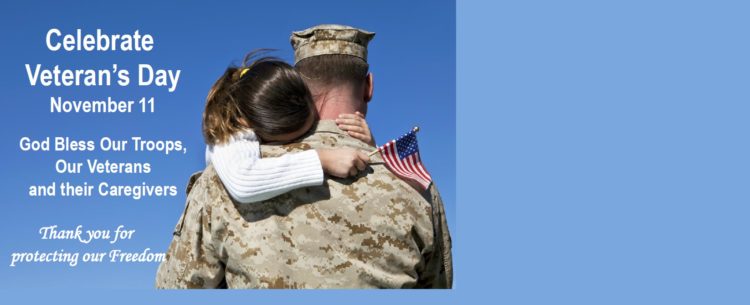 Every year we honor our veterans and their sacrifices – including the sacrifices of military families – to provide peace and freedom for America.
Veteran's Day was established after the end of World War I – known as the "war to end all wars" – when a peace treaty was signed at Versailles, Paris on the eleventh hour of the eleventh day of the eleventh month between the Allied Forces and Germany. Thus, November 11, will forever be the day we honor those brave soldiers, sailors, marines, air force and other military from that war and every war since.
We know that 10 million Americans are providing care for a veteran – and 7 million of these caregivers are veterans themselves. Caregiving Club recognizes your special caregiving duties on this day (and every day) and thanks you for being our "heroes on the homefront."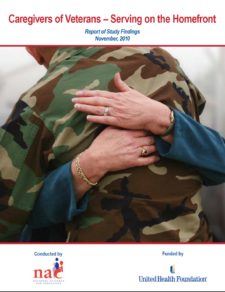 Our CEO Sherri Snelling (whose family members have fought in every U.S. conflict since the Revolutionary Way) takes special care to highlight the challenges of the caregivers of veterans. She was proud to be part of a landmark study conducted by the National Alliance for Caregiving and UnitedHealth Foundation, Caregivers of Veterans – Serving on the Homefront.
In addition, here are some of her articles and interviews with caregivers of veterans:
Caring for those with invisible wounds  (originally published on Huffington Post)
Boomer Parents Caring for a Veteran Son with TBI (originally published on PBS Next Avenue)
Rosalinda & Alain Babin – Boomer Parents Proud of Wounded Warrior Son (originally published on Caring.com)
Libby Hewes- A Veteran's Caregiver Goes from Newlywed to Nurse (originally published on Caring.com)
Enlist now to help caregivers of veterans (a Memorial Day message from Caregiving Club that can be done anytime throughout the year)
Me Time Monday
Also watch our Me Time Monday video on tips for caregivers of veterans:
God Bless our veterans, those serving and all our military families and caregivers!