Sherri Snelling
CEO and Founder
Caregiving Expert
Sherri Snelling is CEO and founder of the  Caregiving Club and author of A Cast of Caregivers – Celebrity Stories to Help You Prepare to Care.  She is a nationally recognized expert on America's 65 million family caregivers with special emphasis on how to help caregivers balance "self-care" while caring for a loved one and was recently recognized as one of the Top 10 Influencers on Alzheimer's by Sharecare, the online health and wellness experts site created by Dr. Mehmet Oz.
Reaching more than 8 million online readers every month, Sherri is a contributing editor and blogger on caregiving for Huffington Post, PBS/Next Avenue, ThirdAge, Alzheimer's Association, MORE, wowOwow, Caring.com, EmpowerHER, Living Better @ 50, Vibrant Nation and others. In addition, she is the executive producer and host of a caregiver self-help reality cable TV program, Handle With Care; creator of the Me Time Monday℠ weekly videos in support of the non-profit Healthy Mondays Campaign.  Sherri also interviews celebrities about caregiving at red carpet events such as galas for the Alzheimer's Association and the Nancy Davis Foundation Race to Erase MS.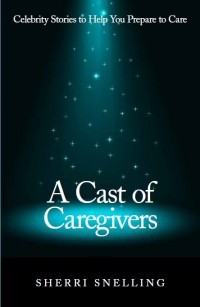 Sherri's book, A Cast of Caregivers, includes interviews with celebrities who have been caregivers as well as provides the "What to Expect When You're Caregiving" expert advice on a range of caregiving topics as well as self-care tips (Balboa Press, a division of Hay House Publishers).
Sherri is a frequently sought caregiving expert by various media and has been featured on the CBS Evening News, ABC World Evening News, MSNBC, Fox Business Network, CNN and in the New York Times, USA Today, PARADE, Prevention and WebMD.
She has served on the caregiving advisory councils for the White House Middle Class Task Force on Caregiving, Centers for Medicare and Medicaid Services (CMS), the Centers for Disease Control (CDC), and the Alzheimer's Association.  She is also a frequent speaker on caregiving and Boomer women topics and is represented by the prestigious American Program Bureau who also represent Mikhail Gorbachev, Sir Richard Branson and Diane Keaton among others.
Prior to founding Caregiving Club, Sherri was the senior director for caregiver programs and corporate social responsibility at one of the nation's leading health and wellness companies.   Sherri holds a B.A. in journalism and political science from the University of Southern California and is a resident of Newport Beach, California.
She was a back-up caregiver to her grandparents helping her mother, their primary caregiver and has spoken to thousands of caregivers around the country in her work.
To reach Sherri, contact her at:  sherri@caregivingclub.com
For a copy of Sherri's speaker's bio, click here:
Sherri Snelling Speaker Bio.2015
Caregiving Club Team of Experts
Whether it is a geriatric care manager, a financial gerontologist, a Certified Aging in Place Specialist (CAPS) to assist in home modifications, technology companies, numerous non-profit organizations or other experts in the world of caregiving, the Caregiving Club taps into the leading authorities for contributions to blog articles, the TV show,  the Me Time Monday videos and tip sheets to bring you the best advice on how to manage your caregiving journey.