AARP hosts a caregiving conversation with Dan Gasby, husband and business partner to lifestyle icon, B. Smith, who was diagnosed with early on-set Alzheimer's a few years ago.
Join Caregiving Club CEO, Sherri Snelling, as she talks with Dan and B. about their message of hope and advocacy in the face of this devastating illness:
When: Monday, February 27, 2017 from 7:00 – 8:00 pm EST (4:00 – 5:00 pm PST)
 (registration is FREE)
Dan shares his challenges in finding patience and being present, in understanding the disease that has changed his "sweetie," and how we all have a role in fighting this disease that today affects 20 million Americans – 5 million living with the disease and 15 million who are caring for them.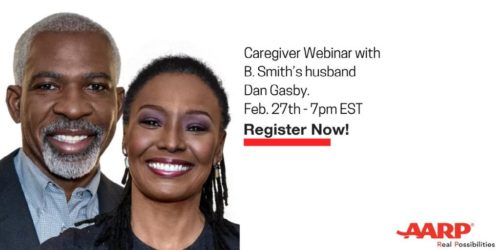 To view other AARP Webinars with Sherri Snelling, check out the archived listings on AARPTek:
November, 2016 – "A Caregiving Conversation with Holly Robinson Peete"
January, 2017 – "Demystifying Medical Apps and Wearable Health Devices – an interview with Dr. Leslie Saxon of the USC Center for Body Computing at Keck Medicine of USC.