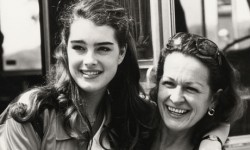 On November 5, 2012, Brooke Shields lost her mom, Teri (age 79) who had long suffered from dementia.  Here is the article Sherri Snelling wrote in 2011 about Brooke's challenges as a Sandwich Generation caregiver.
We remember her as an icon of the '70s and '80s from controversial movies like Pretty Baby and those provocative Calvin Klein ads ("You want to know what comes between me and my Calvins?  Nothing.").   In recent years she has reinvented herself as a TV star (Lipstick Jungle, Suddenly Susan) and Broadway headliner (Chicago and The Addams Family).
While she has maintained a role in the spotlight for more than 40 years – perhaps her most important public role is in speaking out about postpartum depression after the birth of her first daughter and in the last few years speaking up about becoming a caregiver for her mother.
Alzheimer's Bridges the Gap Between Daughter and Mother
It was her role as a new mom and her mother's diagnosis with a dreaded disease that led her to heal a rift that emerged between the once inseparable Brooke and her mother, Teri.  Often criticized for steering her young daughter's career in sexually explicit ways for someone so young, Teri always had a champion and friend in her daughter.  However, when Brooke turned 28 she cut all ties with her mother.  The reason?  Teri's alcoholism.
A few years ago, Teri was diagnosed with dementia and progressive Alzheimer's disease.  Brooke went through all the emotions that a family caregiver of someone with an Alzheimer's diagnosis does – especially the sadness and confusion over an illness that robs the person of their memories or causes them to be violent and aggressive, and have the tendency to wander.
Brooke's New Role – Sandwich Generation Caregiver
When Brooke described caregiving for her mom in a 2005 interview, she called it a "burden" and a "blessing."   The reality is that Brooke was a caregiver for her mom for a lot of years as so many children of alcoholics find themselves.
But just as Brooke had established her independence and had two beautiful young daughters, her mother's diagnosis finds Brooke reprising her role as caregiver to her mom.
Trying to maintain that balance between caring for her girls and caring for her mother makes Brooke one of  the 24 million Sandwich Generation caregivers.  These caregivers are squeezed between raising children and caring for an older loved one simultaneously.
In addition to the juggling act of caring for kids, career and an older parent, so many family caregivers express feeling all alone in their caregiving journey.   It is this sense of isolation that can lead to chronic stress, depression and other health risks.  For Brooke, it truly is a solo act – as an only child of a single mother all the caregiving responsibilities fall squarely on Brooke's shoulders.
The Constant Concern of Alzheimer's Caregivers
Brooke's mother is one of the 5.4 million Americans today who have been diagnosed with Alzheimer's disease, the most common form of dementia.    According to the Alzheimer's Association, 50 percent of those living with disease are undiagnosed.   Knowing the early warning signs and being able to plan ahead for the caregiving journey can help caregivers and families.
Brooke noticed over the years that her mother was not as "competent" as she had been.   It was not until 2008 after her mother's diagnosis that Brooke realized she was not capable of keeping her mother as safe and as healthy as possible at home.  She made the hard decision to have her mother checked into a senior living facility specializing in dementia and Alzheimer's care.
However, a frightening incident where her mother was checked out of the facility by a tabloid reporter only to be found having lunch with the reporter at a nearby diner, caused Brooke to realize that being a caregiver of someone with dementia is going to be a long, tough emotional journey.
The Emotional Toll of Caregiving
When the shift happens and you become a parent to your parent – there are no rules, books or guideposts for what to expect.  Brooke now finds herself struggling with the emotional toll of caregiving on her and her entire family.
In a recent interview she said of her mother, "I've dealt with her alcoholism for years, but this is so new to me.  I've been making my own decisions for a long time, but after all these years, I want my mom."
And, while Brooke is acutely aware of all that her mother's diminishing health entails, she admits it is beginning to have an effect on her children as well — particularly her oldest daughter, Rowan, age 6 ½.  She was recently interviewed saying, "My oldest is uncomfortable because she knows more," Brooke says.
"One day she said, 'Mom, are you gonna be crazy like Toots when you grow up?' I was like, 'Oh, God.'"
Having to help her daughters understand the confusion about how Alzheimer's can effect a loved one while simultaneously managing her own conflicting emotions and sense of loss for her slowly disappearing parent is one of the burdens of Sandwich Generation caregivers like Brooke.
Brooke Writes Her Own Caregiving Script
Being stuck in the middle of this caring continuum can be isolating, frightening and lonely.  Some days you feel like "who is taking care of me?"  The answer is you need to take care of yourself – do the things that nurture your soul, maintain your health, and bring peace to your mind away from the endless needs of everyone else.
As Brooke said in the recent magazine interview, "First of all, there's no martyrdom.  It's a pain in the ass, but it has to be done. I just think, you're only given what you supposedly can handle."
In other words, Brooke looks at caregiving as just one more role she will play so she is preparing and performing as best she can.  When musing about the differences between her generation and her mother's, she said, "Hers was an era without self-analysis, self-affirmation.  Our generation doesn't stand for that."