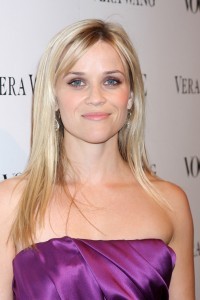 Today, Reese Witherspoon showed her compassion by announcing she would not press charges against the older driver who hit the Academy Award-winning actress as she jogged in Santa Monica, California over a month ago.  Thankfully Reese's story does not have a tragic twist but it does drive a conversation around how our society will manage a growing number of older drivers – and the role technology will play in keeping us safely on the road.
While Reese's injuries were deemed minor – stitches and a black eye – according to the hospital that released her the same day, her accident involving an 84-year-old woman who reportedly failed to slow down and hit the actress in an unmarked crosswalk, evokes the dreaded memory of the 2003 tragic accident in that same city.  In that devastating crash, an 87-year-old gentleman accelerated when he thought he was braking and killed nine people at a crowded Farmer's Market.
Aging Boomers Means More Older Drivers – Get Ready for the Real Route 66
If you are a family caregiver for an older loved one, sooner or later you will probably find yourself concerned about their driving safely or how to have the conversation if driving retirement becomes necessary.
As our society faces the silver tsunami of aging Baby Boomers over the next 20 years, one out of every four drivers will be over age 65 representing more than 57 million senior drivers according to the Automobile Club of America Foundation for Traffic Safety.  In fact, today 10 percent of all drivers are over age 70.  The statistics show us that:
People 75 years or older have more fatal crashes of any age group except teens ages 16-20
81% of fatal accidents involving senior drivers happen during the day
On average, men outlive their driving abilities by six years and for women it is 10 years
The good news is that numerous companies in the technology and automotive industries are creating vehicle designs, software and other features that help adapt our precious autos for life as an older, safer driver.
Technology Is In the [Older] Driver's Seat
As co-producer of the Silvers Summit at the Consumer Electronics Show in January 2012 where thought leaders in aging and technology come together, I have been reviewing some of these automotive technology breakthroughs.  It seems that when it comes to cars of the future, some of our best boomer TV and movie memories:  KITT from TV's Knight Rider, the DeLorean in the Back to the Future movie franchise and even the Batmobile may be a reality sooner than we think.
Built-in GPS devices and safety communications services like OnStar on GM vehicles have been around for years.  Following are some of the latest trends in product development, safety software and other interesting technology innovations I have found in the area of senior driving:
Ford's "Third Age Suit" – Since 1994, this truly futuristic get-up has helped engineers understand and overcome vehicle design limitations when it comes to mature drivers.   The Third Age Suit looks like something Neil Armstrong wore when he was the first real "moonwalker." The suit allows engineers to feel 30 years older with gloves that lessen the sense of touch and goggles that simulate cataracts. The design improvements have included easier vehicle entrance and exits and more user-friendly controls that actually benefit drivers of any age but certainly embrace the needs of older drivers.
DriveSharp from Posit Science –  This revolutionary online program is clinically proven to help drivers see more, react faster and cut crash risk by up to 50 percent.  Used by the AAA Foundation, this "train your brain" cognitive assessment and training tool helps keeps Americans driving longer and more safely.
Nuance – when it comes to mobility + connectivity – this company offers an integrated suite of technologies and services including voice-activated dialing, voice destination entry for navigation systems, vehicle command and control and connected services for more than 30 million vehicles and 30 million personal navigation devices worldwide.  An example is the Sync on the 2011 Ford Edge.  The goal is safer usage of these connected features behind the wheel to minimize visual and manual distractions.
Driver Seat Game by Liberty Mutual – With approximately one million apps and counting – the mobile apps industry is projected to grow to $18.7 billion by 2014 and more than 17 billion apps will be downloaded before the end of this year.  It is no wonder that someone created a great app that shows what it is like to be a senior driver in an entertaining way. The Driver Seat Game is an iTunes app billed as the world's first senior driving simulator game.  One user posted this comment, "I want to thank you for making such a great game it's nice to know what's it like to be in someone else's shoes."
Online Resources to Help with the Talk About Driving Retirement
If you believe your loved one should not be driving anymore, having the conversation about "driving retirement" is not always easy.  In fact, a survey conducted by Caring.com and the National Safety Council found that 36 percent of seniors do not want to have the conversation about "giving up the keys" – more than they do not want to talk about funeral arrangements (29 percent) or selling the family home (18 percent).
So, how do you get started?  The following organizations offer numerous online tools and tips for a variety of issues around senior driving including:  online training courses, tips on making sure your car "fits" as you age, safety features to look for in a car, and most importantly, how to have that conversation with an older loved one on "giving up the keys" but maintaining independence and mobility:
You can also read my Caregiving Club blog articles on these topics and other senior driving issues that are helpful for family caregivers:
Giving Up the Keys But Staying Independent
How to Plan for Driving Miss Daisy