Creating a plan to care for yourself while you are also caring for a loved one is not always an easy task.  Procrastination is easy.  What is amazing is how good I feel when I have set a goal and stuck to it versus how bad I feel if I continue to come up with excuses for not doing it.
Some of the ways I have found that I stay dedicated to a goal are:
Make it fun
Get a friend involved
Celebrate my results
Check in with myself periodically to ensure I am staying on track
Make it Fun
To help you be successful at whatever your "Me Time" plan is, I have created the Me Time Monday Playing Cards.  These cards are a fun way to motivate yourself, since there are 52 Mondays in the year and 52 cards in a traditional playing card deck.
Every Monday for the next 52 weeks, I will be "releasing" a new card.  We will begin on February 13 with the Heart Card Suit to celebrate National Heart Health Month and as my Valentine to you.  Each suit will relate to the key areas where Caregiving Club focuses its content:
Heart suit                              =             Wellness
Club suit                               =             Health
Diamond suit                         =             Financial Planning
Spades suit                            =             Technology Solutions
Get a Friend Involved
If you have a friend who is also trying to stick to a Me Time plan – you can share with her or him all the cards that you think will help.  It is a fun, friendly reminder to support your friend in their goal.
Celebrate Your Results
Collect all the cards – they will be a constant reminder year after year of how important it is to take care of yourself.
Check In With Yourself to Stay on Track
One of the reasons I love the concept created by The Healthy Monday Campaigns is how simple and easy it is to follow.  Use Monday as your milestone for whatever you are choosing to do:  lose weight or gain weight, start exercising, stop smoking, create sound financial plans, get more sleep, learn about new caregiving technology, take more time for yourself.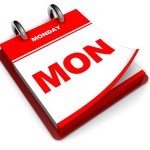 Every Monday becomes an opportunity to renew that promise to ourselves.  Healthy Monday says their research shows that most Americans feel Monday is the day for a fresh start.  It is part of our cultural DNA – Monday is the start of the work week, the school week and we feel renewed energy to start something after a nice weekend respite.
For caregivers, I believe using the Monday point in time to remind you of "what have I done for me lately?" makes sense.  Whether it is 5 minutes or 5 hours – it does not matter.
Fifty-two weeks to reach your goal.  Pick one thing that you would like to accomplish just for you this year.  Check in with yourself every Monday.  And, tell me what your "Me Time" tip is – I will include it in my future videos and blogs.  Good luck – 2012 is your year!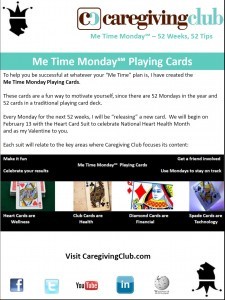 Caregiving Club Card