Me Time Monday Videos and Tip Sheets, provide Caregiving Club expert advice to help caregivers balance self-care while caring for a loved one.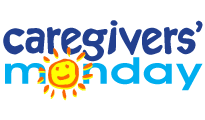 Our Me Time Monday materials support the Caregivers' Monday Campaign which is part of the Healthy Monday Campaigns, a national movement to have Americans adopt healthy behaviors that prevent chronic illness by starting new activities on a Monday.  Check out the Caregiver's Monday Campaign recently launched by Healthy Mondays.
You can view the Me Time Monday Videos by watching the weekly highlight video in our right hand sidebar.  You can view all our videos on our Caregiving Club You Tube channel or watch them from the links below.
We have also created the Me Time Monday Tip Sheets below which accompany the videos and can be printed for your convenience.
To read more about the Me Time Monday Videos and Healthy Monday Campaign, click here:  http://www.caregivingclub.com/me-time-monday-video-tips/
Me Time Monday Tip Sheets and Video links from the Caregiving Club:
Caregiver Tip – Women and Alzheimer's Disease 2011
Me Time Monday – Alzheimer\'s Early Detection Tips
Caregiver Tip – Stress Relief 2011
Me Time Monday – Stress Relief
Caregiver Tip – Nutrition, Super Foods, Super You 2011
Caregiver Tip – Senior Nutrition 2012
Me Time Monday – Nutritional Super Foods for a Super You
Caregiver Tip – How to Stay Connected 2011
Me Time Monday – Staying Connected
Caregiver Tip – How to have the CARE Conversation 2011
Me Time Monday – CARE Conversation
Caregiver Tip – How to Have a Healthy Heart 2011
Me Time Monday – Healthy Heart Tips
Caregiver Tip – Happiness Tips 2011
Me Time Monday – Happiness Tips
Caregiver Tip – Give Yourself Superstar Treatment 2011
Me Time Monday – SuperStar Caregiver Treatment Tips