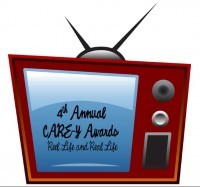 For the last four years I have bestowed my own version of the Emmy Awards – something I call the CARE-Y Awards™ that acknowledges both the reel stars and programs in the past year's TV offerings and the real life caregivers who appear on TV.
Here are my top picks for the 2011-2012 season for the Fourth Annual CARE-Y Awards from the Caregiving Club:
"Reel Life" CARE-Y Awards – Playing a Caregiver on TV
Best long-distance caregiver on TV:  Chief Brenda Lee Johnson (Kyra Sedgwick) – The Closer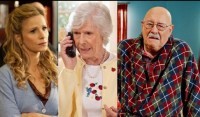 We've watched actress Kyra Sedgwick catch the bad guys as Los Angeles Police Department Captain, Brenda Lee Johnson, on TNT's The Closer.  However, in this final season of the series, it was Brenda's father (played by actor Barry Corbin) who caught a different kind of bad guy:  thyroid cancer.  Brenda uses her power within the LAPD to influence a doctor suspected of Medicare fraud to treat her father in one of his clinical trials.  She also has her Atlanta-based parents move into her Los Angeles home for her father's treatment and witnesses the toll that caregiving has taken on her mother (played by Frances Sternhagen) – which leads to a tragic conclusion in the episode, Last Rites.
Best caregiver for multiple loved ones on TV:  Carrie Wells (Poppy Montgomery) – Unforgettable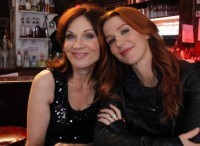 On the CBS drama, Unforgettable, actress Poppy Montgomery plays Carrie Wells, a police investigator with hyperthymesia, a rare autobiographical memory ability first identified by researchers in 2006 with only 20 reported cases worldwide to date.  Interestingly, in real life actress Marilu Henner is one of the 20 people with this extraordinary gift.  Henner plays Carrie's aunt in several episodes this season in which her character has early on-set Alzheimer's.  Since Carrie's mom suffers from the same disease and her aunt is childless, Carrie promises to be caregiver to both her mom and her aunt as their Alzheimer's progresses. Unforgettable was also honored this year by the Alzheimer's Association with the Abe Burrows Entertainment Award at the 20th Annual A Night at Sardi's event. Watch clip
See Caregiving Club's interview with Marilu from the Alzheimer's Association A Night At Sardi's event
Best Spousal Caregiver:  Dr. Richard Webber (James Pickens, Jr.) – Grey's Anatomy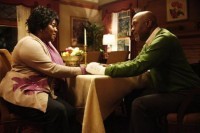 Receiving this honor for the second year in a row, I give the award to Dr. Richard Webber (played by actor James Pickens, Jr.)  who was the hospital chief of surgery on ABC's Grey's Anatomy. For the last few seasons we've followed his journey as a caregiver for his wife Adele (played by Loretta Devine) who has early signs of Alzheimer's disease.  This year we watched her disease progress as she became violent and Richard struggled with the dilemma of whether to care for her at home or choose to have her move to a memory care facility.  Typical of many caregivers, Richard is in denial about not being able to care for his wife at home.  Meredith Grey (actress Ellen Pompeo) recommends he check Adele into the same assisted living facility where her mom with Alzheimer's lived (played on past seasons by Alzheimer's Champion Kate Burton). Watch clip
Best caregiver to a special needs child on TV:  Martin Bohm (Kiefer Sutherland) – Touch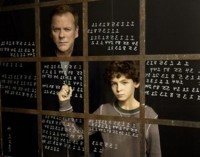 Actor Kiefer Sutherland plays single father, Martin Bohm, to his autistic 11-year-old son, Jake (played by exceptional young actor David Mazouz) in Fox's new series, Touch.  After losing his wife in the World Trade Center on 9/11, Martin desperately tries to reach his son who has never spoken since birth.  However, like many autism spectrum disorder (ASD) children, Jake is exceptionally gifted with numbers and understands the unique way number sequences connect everyone on earth.  Blending mystery, thriller and spirituality into a single TV program, Martin struggles with having his son treated while living in a board-and-care facility only to realize this decision was a mistake forcing him into a custody battle with his wife's sister and eventually propelling father and son to go on the run.  Watch clip
Best sibling/friend caregivers:  Maggie (Amy Hargreaves) and Saul Berenson (Mandy Patinkin) – Homeland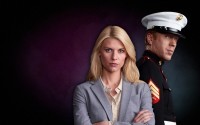 Showtime brings us Homeland, one of the most riveting new TV dramas that takes a poignant look at both PTSD and mental illness.  Claire Danes plays CIA agent Carrie Mathison who is both brilliant and bi-polar. As she struggles to help others see that the U.S. POW hero who recently returned home could be a terrorist she also struggles to keep her mental illness a secret from her employer with the help of her physician sister, Maggie (actress Amy Hargreaves) and her CIA mentor, Saul Berenson (actor Mandy Patinkin).  Carrie's meltdown at the end of this season followed by her choice to do electro-shock therapy is heartwrenching and gives us a glimpse into the often painful lives of those with mental illness.  In my opinion, Claire Danes is Emmy-worthy in this role. Watch clip of Saul as Carrie has a manic phase in the hospital
Watch real life CIA undercover agent discuss Carrie's bi-polar disease and her brilliance as an agent.
Best Caregiver in a Crisis – Dr. Maura Isles (Sasha Alexander) – Rizzoli & Isles

This great TNT drama about two friends – one a Boston detective (played by Angie Harmon) and one a medical examiner (played by Sasha Alexander) showcased an episode where Dr. Isles unexpectedly has to make a DNR (do not resuscitate) decision for the father (John Doman) she never knew she had.  Great example of how not knowing your loved one's wishes can force you into difficult decisions about their care. In another episode, Dr. Isles becomes caregiver to her mother (played by (Jacqueline Bisset) after she is in an auto accident.
 Best Made for TV Movie Caregiver:  Billie Clark (Kristin Davis) in Of Two Minds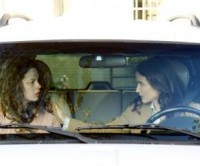 This Lifetime original movie features Kristin Davis as Billie Clark, caregiver to her sister (played by Tammy Blanchard) who has schizophrenia.  The movie showcases the struggle of caring for a loved one with mental illness. Billie's dilemma is that she loves her sister and wants her to live with her family but cannot cope with the havoc she wreaks including trying to seduce both her husband and her young son and ruining occasions such as an anniversary party.
Best Caregiving from another Era:  Lady Mary Crawley (Michelle Dockery) on Downton Abbey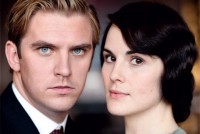 In season 2 of this wildly popular PBS drama, star-crossed lovers and distant cousins, Mary and Matthew, find themselves engulfed in the ravages of Britain's fighting during World War I.  Matthew (played by Dan Stevens) returns home with severe injuries and may not live.  Mary plays caregiver to Matthew who recovers by season's end.
Best Caregiver of a Grandparent:  Mike Ross (Patrick J. Adams) on Suits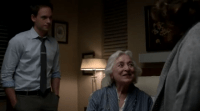 This season, young lawyer Mike dealt with the decline of his grandmother (played by Rebecca Schull) who raised him since he was a young boy after his parents died.  Mike has to face moving his grandmother into a nursing home and she passes away suddenly in one of the last episodes.  In this same episode, Harvey (played by Gabriel Macht), who plays Mike's boss, deals with his father's sudden death from a heart attack.
Best veterans caregivers on TV: Army Wives, Grey's Anatomy, Homeland

Showing the wounds of war are several shows:  Roland Burton (played by Sterling K. Brown) is a psychiatrist who cares for his army lieutenant wife, Joan (played by Wendy Davis) who suffers from post traumatic stress disorder (PTSD) on Lifestime's  Army Wives; Cristina Yang (played by Sandra Oh) and Major Owen Hunt (played by Kevin McKidd, another real-life Alzheimer's Champion) are surgeons and husband and wife on ABC's Grey's Anatomy.  They have struggled with his PTSD after his tour in Afghanistan but the slow burn of his problems finally pull them apart this season.  New Showtime program, Homeland, offers up a different look at PTSD – not from combat but from being a prisoner of war (POW) – as Sargent Nicholas Brody (played by Damian Lewis) comes home to his wife Jessica (played by Morena Baccarin) but cannot cope with transitioning back to a normal life.
Best Caregiving Special or Documentary:  Your Turn to Care – KCET (Hosted by Holly Robinson Peete and Produced by Margaret Hussey)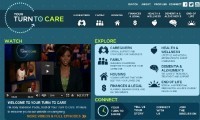 This several part series takes viewers through the various issues many caregivers face:  when and how to discuss driving retirement with a parent, how to plan for long-term care, etc. showcasing real life caregiving situations.
View clips and see the Web site
Special Recognition Awards: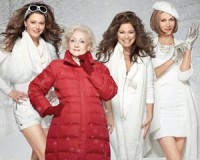 Best PSA Campaign and show integration:  Hot in Cleveland where actresses Betty White, Valerie Bertinelli, Wendie Malick and Jane Leeves star in a public service announcement about heart disease as the No. 1 killer of women and integrated that message into an episode storyline.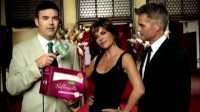 Best Advertising:  Depends starring Harry Hamlin and Lisa Rinna – kudos to gorgeous real-life TV star couple for starring in a TV commercial about absorbent briefs showing that incontinence issues can hit even when you still look great on the outside.
"Real Life" CARE-Y Awards – Caregivers on TV
Best Caregiver of a Morning Show Host – Sally Ann Roberts, sister to Robin, co-host of Good Morning America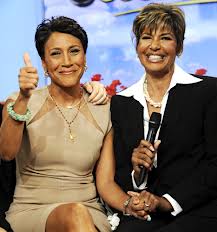 Robin Roberts, co-host of ABC's Good Morning America who beat breast cancer five year ago was hit again – this time with MDS (myelodysplastic syndrome), a type of pre-leukemia that attacks the blood and bone marrow.  In an emotional message, she told viewers she would be undergoing a life-saving bone marrow transplant and the donor would be her sister, Sally Ann.  Both Robin and Sally Ann talk about the importance of organ donation and encourage everyone to sign up for a donor registry such as bethematch.org.  The transplant took place on September 20 and I wish Robin and Sally Ann swift, successful recoveries.
Best Caregivers Who Are Lead Actors in a Drama Series – Peter Gallagher and Bryan Cranston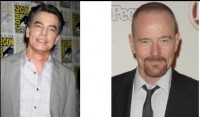 This is a tie between Peter Gallagher, who plays Arthur Campbell, head of the CIA on Covert Affairs on USA Network and Bryan Cranston who plays Walter White on AMC's Breaking Bad.  Both Peter and Bryan cared for mothers who suffered from Alzheimer's disease and are Alzheimer's Association Champions. (See Caregiving Club's interview with Peter Gallagher from the Alzheimer's Association A Night at Sardi's event).
Best Caregivers Who Are Lead Actresses in a Drama Series – Madeleine Stowe, Glenn Close, Marg Helgenberger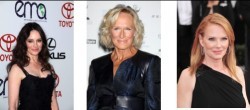 Another tie –this time three ways – Madeline Stowe, who plays evil Victoria Grayson on ABC's Revenge and Glenn Close who has won an Emmy in the past for playing evil Patty Hewes on DirectTV's Damages.   Madeleine was a young caregiver to her father who suffered from multiple sclerosis and Glenn cares for a sister who has bi-polar disorder and who stars with her sister in PSA's and created a foundation, BringChange2Mind.org to raise awareness for mental illness.  Marg Helgenberger, who played her 12th and final season this year on CBS's top-rated drama, CSI, was a caregiver for both her mom with breast cancer and her father who died from complications of multiple sclerosis.  (See Caregiving Club's interview with Marg from the Nancy Davis Race to Erase MS event).
Best Caregiver Who Is a Talk Show Host – Katie Couric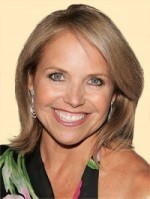 The Katie Show, which debuted to high ratings for ABC, is hoted by longtime news anchor, Katie Couric, who cared for her husband who died of colon cancer.  Her sister also passed away from pancreatic cancer.  Couric has been a tireless advocate for colon cancer screenings and education and supports the Entertainment Industry Foundation's (EIF) Stand Up 2 Cancer campaign.
Kudos to Programs That Show Ability Rather Than Disability, Disease or Disorder: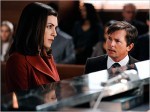 The wonderful guest actor Michael J.Fox on CBS's The Good Wife who plays a cunning lawyer with Parkinson's disease – which Fox lives with in real life.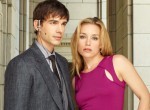 Showing that blind doesn't keep you from spy work – Christopher Gorham plays Augie who is a blind CIA analyst often saving Annie (Piper Perabo) on USA Network's Covert Affairs.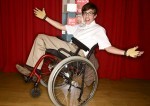 Artie (played by Kevin McHale) is a singer/guitarist on Fox's Glee who just happens to also be a paraplegic in a wheelchair.
Eric McCormack plays brilliant but paranoid schizophrenic neuroscientist Dr. Daniel Pierce on the new TNT seriesPerception.
My special thanks to the writers, directors and producers who help shed more light on caregiving in their programming.  And, special thanks to those real-life caregivers who help the 65 million caregivers across the country know they are not alone when these high-profile celebrities talk of their own caregiving experiences.
If you have a nomination for a reel or real life caregiver, send me your suggestions at info@caregivingclub.com.  
Click on these links to see previous year's awards:
2011 – Third Annual CARE-Y Awards
2010 – Second Annual CARE-Y Awards
2009 – First Annual CARE-Y Award winners.
Read about celebrity caregivers and "what to expect when you're caregiving" in Sherri's new book, A Cast of Caregivers – Celebrity Stories to Help You Prepare to Care published by Balboa Press, division of Hay House Publishing in Feb, 2013.